Recruitment & Retention

Performance Management

Policies & Procedures

Employee Relations

Employee Legislation

Leadership & Training

Executive Coaching

Disability Management
H2R is dedicated to providing you with Solutions for your Human Resource needs.
From hiring to retiring, and everything in between.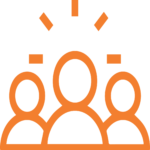 OUTSOURCE YOUR FULL HR DEPARTMENT
Subscribe to a monthly service based on a price per employee, per month and we'll handle your Human Resources needs for your entire company. This means you're fully outsourcing your HR Department – allowing you to focus on what you do best, and we'll handle the rest.
PAY AS YOU GO – HOURLY RATE
Have access to our team of professionals to provide all services – From Hiring 2 Retiring, whenever you need it. We're just a phone call or Zoom away and can provide immediate support based on your needs and your schedule at the right time.
INTERIM ASSIGNMENTS and FRACTIONAL HR
We provide HR fractional on-site or virtual services for as much time as you need – half a day a week, up to 3 full days per week. We also provide support to existing HR Departments and Professionals to cover sick leaves, extended vacations, maternity/parental and other short-term leaves.
HR AUDIT
Not sure where you are at with your human resources compliance?  We will conduct an audit of your policies, procedures and practices and identify areas of non-compliance with employment legislation and work with you to develop solutions to meet your key objectives.  Employment Standards Act (ESA), Health & Safety, AODA, Training, Employment Contracts, Human Rights, Performance Management and more!
H2R will ensure that your company has what it needs when you need it
SPECIAL PROJECTS – standard hourly rate
H2R professionals have made their mark by successfully consulting on special projects. Our agility combined with our rich experience by providing valuable expertise and delivering focused attention to key projects such as:
COVID-19 – what must employers do, Rapid COVID Testing, Workplace Safety Plan/COVID Policy
Onboarding
Employee Engagement Surveys
Pay Equity
Mandatory Compliance Training
Compensation Plan Design & Development
Employee Policy Handbooks
HR Department Design and Setup
Employee Policy Development
AODA Training
Workplace Safety Training
Harassment Investigations
Employee Conflict Resolution
Employee Engagement Consulting
HR Audits
Health & Safety
OTHER SERVICES INCLUDE
HR Department Setup
Executive Level/Strategic HR Consulting
Recruiting and Talent Acquisition
Succession Planning
Talent Management
Employee Engagement Consulting
Whether you have an HR team in place, or just need to get something done, H2R Solutions IS the solution.